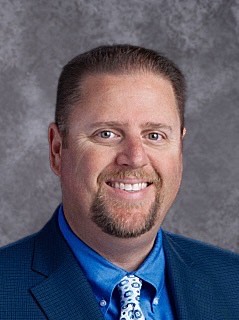 We are pleased to announce that David Perry, Ed.D. has accepted our offer to serve as Principal of Christian Brothers High School, beginning July 1, 2023. This announcement is the culmination of an extensive, thoughtful, and inclusive search and hiring process that began last fall. Read the official press release here.
Dr. Perry as he is the father of three CB students. As such, he is already enthusiastically involved in campus life. In addition, his deep connection to Lasallian education goes beyond sending his children to a Lasallian Catholic school. Dr. Perry graduated from St. Mary's College of California, a Lasallian Catholic institution that is owned and operated by the Christian Brothers. At St. Mary's, Dr. Perry earned his bachelor's, master's, and doctorate degrees, and was inspired by the Christian Brothers and Lasallian Catholic charism to answer the call to work in education. We are grateful that his calling has now brought him "home" and believe his leadership, faith, and focus will best serve our students, families, faculty, and staff for years to come.
Professionally, Dr. Perry comes to CB with 15 years of experience of working in and leading Catholic schools. Since 2018, he has served Cristo Rey High School in Sacramento as the President and CEO. Prior to Cristo Rey, he led Saint Patrick-Saint Vincent High School in Vallejo as President and CEO, Principal of Saint Andrew School in Florida, and Saint James School in Davis. Before stepping up to leadership positions, Dr. Perry built his educational foundation in the classroom as a teacher.
In addition to congratulating Dr. Perry on his new role as Principal, Christian Brothers High School extends a special thank you to Assistant Principal of Curriculum and Instruction, Julian Elorudy '03, who stepped up to serve as Interim Principal throughout this transition. Mr. Elorduy '03, along with Amanda Fugina, will continue to serve our school as Assistant Principals. We also thank the Principal Search Committee, which included teachers, staff, alumni, CB parents, current and former Board of Trustees members, the President's Cabinet, and other community members with expertise in educational leadership. Their experience, diverse perspectives, and willingness to give of their time were critical to ensuring the success of our search and hiring process.
Please join CB in the Lasallian tradition of making Dr. Perry feel included and welcomed!