We are excited to invite you to Christian Brothers High School's Live Auction and Dinner on March 16, 2024 at 5:30 p.m.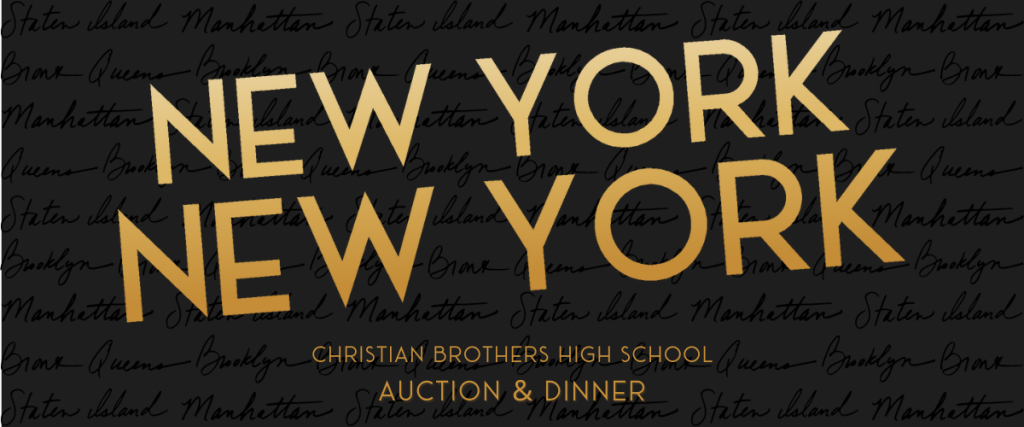 Join us in support of CB students, for an unforgettable gathering of elegance and generosity at the biggest fundraiser of the year! Don your best attire and show your glamorous New York style while partaking in an evening of grandeur and magnanimity.
Live and Silent Auction
Another way to contribute to the Auction is through donations of goods, experiences, and/or services. We welcome contributions from everyone in our CB Family to make the Auction a success. You will see more to come in the following months regarding the collection of these incredible and generous donations. Click the dropdown menus to learn more…
Don't miss the raffles!
The Pre-Auction Raffle is your chance to win two tickets to the Auction. This will only be available for a limited time. Click here to participate.
The Golden Raffle is your opportunity to win your choice of a Live Auction Item. Click here to find out more.
Live Auction: Where lively bidding occurs!
If you have or know of someone with the ability to donate an experience (ex. vacation home abroad, balloon ride in Tahoe, ski weekend in Colorado, rafting on the river, etc.) this is a perfect item for our Live Auction. Families are welcome to join together to donate a package experience for our Live Auction, so grab your friends and get creative!
Silent Auction: You don't need to be present to win!
Bidding for the silent auction takes place through our auction website. The silent auction is comprised of a variety of items donated. Donations range from barbecues to facial packages, to household items that our graduates can use as they leave for their new adventure. Think… "what would I like to have, but haven't spent the time to purchase yet?"
How can I become a donor to this great event? We are so glad you asked!
Click here to simply make an online donation.
Donate live or silent auction items by dropping them off at the CB Main Office or give us a call at (916) 733-3647
Need donation item ideas? Check our our Amazon Wish List
Contact us directly- If you have any questions regarding sponsorship or donations please contact Kim Villarreal, Director of Parent Relations by email at kvillarreal@cbhs-sacramento.org or by phone at (916) 733-3647.
Become an Auction Volunteer
Learn more:
Website: https://NYCityCBAuction.givesmart.com
Text: NYCityCBAuction to 76278