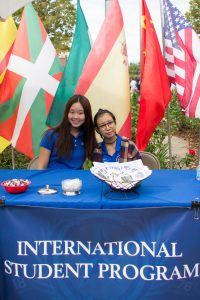 The world is deeply connected and today's students are connected, global citizens. CB's mission calls for innovation in ensuring that our students are prepared to take their place as ethical leaders in this new world. Today, that means an international education that equips them with the cultural knowledge, social skills and integrity to meet the challenges of a changing world.
Christian Brothers High School welcomes students from all around the world! Since launching our International Student Program in 2012, students from numerous countries have joined our student body. We are proud that these students have all become part of the CB family and we look forward to welcoming more.
In addition to offering an excellent academic program that prepares students for university success worldwide, Christian Brothers provides a warm and welcoming environment for our international students. Students from abroad are encouraged to get involved in our many school activities including the arts, athletics, clubs and social events.
Our International Student Program includes many activities for foreign students to get to know American students. Students live with warm and welcoming host families, giving them the opportunity to experience life in an American family.
---
Inquiry Form
Christian Brothers High School is pleased to work with Cambridge Network in welcoming international students to our school.
Click here to learn more about the international admissions process. Please also use the form to get in touch with Cambridge regarding tuition pricing for international students.
Become a Host Family for International Students
Bring the world into your home by hosting an international student! Welcoming an international student to your family is rewarding for so many reasons. Expand cultural awareness while creating lifelong friendships.
Click here to learn how to become a host parent.