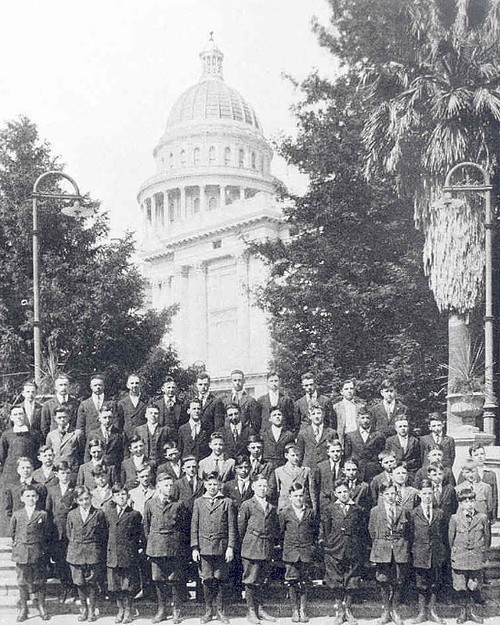 Lasallian Education: Transforming Lives Since 1680
Take a walk on the Christian Brothers High School campus and the feeling of community among the students, teachers and staff is palpable. In its 142 years in Sacramento, this venerable high school has changed its location three times and been known by six different names. What remains unchanged is the inimitable spirit—the Lasallian spirit and tradition of teaching and caring for young people in a community steadfastly dedicated to the intellectual growth and spiritual well-being of its students.
This rich tradition of Lasallian education dates back to 1680 when St. John Baptist de La Salle, a prominent French priest, founded the Brothers of the Christian Schools "to give a human and Christian education to the young, especially the poor and working class." De La Salle transformed education by forming a community of educators with whom he developed a spirituality of teaching and learning. In 1876, the De La Salle Christian Brothers and members of the Catholic community brought that legacy to the Sacramento Valley establishing the St. Patrick Institute at 12th and K streets, evolving into what is now Christian Brothers High School.
Lasallian Education centers on Catholic values and personal relationships, emphasizing academic excellence, faith formation, inclusion, respect for the individual, service and social justice. A Lasallian Education strives to enrich each student's cultural, intellectual, physical, social and spiritual development.
In 1956, when the doors first opened to the current campus, just over 500 young men and women joined together to launch the area's first co-institutional Catholic high school – Bishop Armstrong High School. Today, more than 1,100 young men and women enter its doors each day and each, in his or her own way, continues the legacy of learning, service and inclusive community that are at the very heart of a CBHS education.
---
A History of the La Salle Club
CB HISTORY BOOK