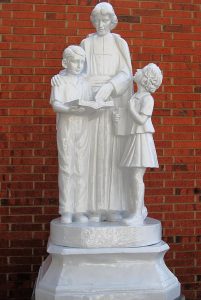 Christian Brothers High School is a Catholic educational community where students are loved, instructed, and guided according to the traditions of the Brothers of the Christian Schools and the charism of Saint John Baptist de La Salle, Founder of the Brothers and Patron of Teachers.
A Christian Brothers education, inspired by St. John Baptist de La Salle, patron saint of teachers, touches the heart of each student, inspiring them to surpass their own expectations, achieve academic success, and experience personal and spiritual fulfillment within a safe, nurturing community.
We are a Community of Faith and Zeal:
Guided by the life and Gospel of Jesus Christ
Emphasizing the inalienable dignity of each person
Fostering a love for wisdom and truth through the tradition and teaching of the Catholic Church
Striving to develop authentic personal relationships through trust and mutual respect
As a Lasallian High School:
We educate in the Holy Presence of God, striving for excellence by instilling Gospel values in all we do and by inspiring academic and spiritual growth.
We believe that teachers and staff stand in a providential and grace-filled relationship with students. Christian Brothers students benefit from the witness of a caring, concerned, and dedicated faculty, administration and staff.
We are committed to create and sustain respectful human relationships in community. Within such a setting, Christian Brothers seeks to challenge its students to serve others, especially the poor, and to deepen a sense of responsibility in the world community.
We seek to serve and embrace students with varied academic needs and diverse social, cultural, and economic backgrounds and do so in partnership with families and all those who are committed to living the Lasallian mission.
Five Core Principles of a Lasallian School:
Faith in the Presence of God
Respect for All Persons
Inclusive Community
Quality Education
Concern for the Poor and Social Justice